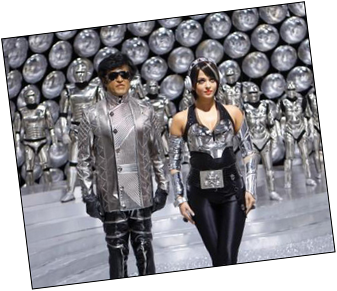 'Where there is a will there is a way' – Applies to Endhiran and also getting a ticket to Endhiran on second day of release. Getting a ticket to Endhiran itself was an experience. Having never planned to buy a ticket and searching for the ticket on second day of release for evening show is real madness. With all the media hype pre and post release it is near impossible to book a ticket online. But to our (Me and Priya) luck we found 2 tickets at INOX Jayanagar. We were appreciating our luck without common sense. Oops! No matter how many times we tried that ticket could never be booked. We drove to the theatre to find out if these tickets could be released for us. To our surprise we found a dozen people complaining about the locked tickets and get them issued to them. They were complaining several issues including the jammed INOX website and SMS booking. It was easier for INOX management to complain the Ayodhya verdict for the issues they were facing with online and sms booking.
We called the manager and told him that the ticket got blocked because of us and asked him to release the tickets to us. After several arguments he insisted to come 2 hrs before show when he will have the authority to release the blocked tickets. I left my mobile number with him. We came 2 hrs earlier to the show just to find that the manager was having problems releasing the tickets. Then came in one gentlemen with a bundle of tickets (around 10) as his plan for watching the movie with his friends got cancelled. People surrounded him like a swarm of bees but we managed to get two tickets to the evening show.
We entered the cinema hall at last. When you watch a movie or review them, especially when they are Indian and Rajinikanth's there are few things you need to switch off (Logical Analysis and Common Sense). A film is meant for entertainment and purely entertainment. It would be your mistake if you try to apply the laws of the physical world.
Having known tamil cinema one would be curious to know how certain contrasting features were matched (Science Fiction and Masala, Scientist and Rajini, Rajini and Aishwarya). Kudos to director Shankar. The film goes so well that you never think about these till the end of the film. First the movie is not a normal Rajini movie as one would expect. It is a different experience, a Hollywood movie with Indian masala flavor. It is purely an evolution of Tamil Cinema taking it to the next level as in one of the very few punch dialogues in the film (Upgraded Version 2.0). But it is difficult to match with first grade Hollywood movies as seen in many reviews. The special effects are superb for Tamil movies but not without flaws. The stunt scenes in the train are excellent. The climax action scenes are good but exhausting. If something is very bad about the movie it is the editing. One could judge well ahead if a song is about to begin and which song would that be. For a film at this budget poor editing can no way be justified. The song sequences do not go along with the movie. The BGM is not noticeable and is poor.
With all its flaws Endhiran is still superb. With a three year waiting and huge expectations it would be really a challenge. It still impresses for all the hard work, the constraints of Tamil Cinema, the performance of a sixty year old man, the dreams of director Shankar, the vision of Kalanidhi Maran. It has given a message, A movie at this budget is commercially viable and could be made successful. It is has opened the gate for a new breed of Indian movies.
It has also proved that piracy is not a constraint for a good movie to be successful. I still remember when I paid 15 SGD in Singapore for Sivaji none of my non Indian colleagues believed as by the rule and by their experience no movie ticket can cost beyond 10 SGD. And for Endhiran I have legally paid something near by that price. DOT!